If you use & enjoy these products, we would appreciate you leaving a comment using the form below! (if you have before & after photos, we'd love to see them!)
Bear Oil / Bear Salve
This medicine came through a dream and is made from all natural ingredients: Bear Fat, Olive Oil and Eucalyptus. the Oil and the Salve contain the same ingredients, just different methods of delivery (more Bear Fat and Beeswax for thickener).
Instant relief for sun burns, steam burns, grease burns, razor burns, and radiation burns…and it clears many different skin conditions that conventional creams won't cure!
Salve available in LG – 60gm, SM – 20gm. Oil is in a convenient 'pop top' container – 67gm.
(these are NET weights, packaged weights are slightly more).
Eczema
Psoriasis
Rosacea
Relieves Itching, Redness
Amazing Massage Oil
Skin Moisturizer & Tattoo Toner
Lip Balm, Hand Lotion
Sun, Steam, Radiation Burns
Poison Oak and Ivy
Warts
Minimizes Scaring & Life Lines
Pets' Skin Problems
Eliminates Athlete's Feet
Gentle enough to clear Cradle Cap on Babies
Minigan Salve
Made from 4 different types of Pine Gum, Bear Fat and Bees Wax. It has been made for hundreds of years by First Nations People and is used to treat cuts, prevent infections and relieve aching joints.
Salve available in LG – 60gm, SM – 20gm.
(these are NET weights, packaged weights are slightly more).
Antiseptic
Prevents & clears infections
The best thing for Acne
Use on cuts, burns, scrapes, cold sores etc.
Amazing Relief for Hemorrhoids
It is better than most antiseptic creams on the market and it is ALL NATURAL!
Anytime you need a band-aid, use a little Minigan for quick relief and faster healing!
NOTE: We sometimes have a limited supply of Pure Bear Fat – great for treating drums & hides! Please contact us for availability and pricing. All prices Canadian Dollars (excl. tax) – prices/availability subject to change.

Med-Pac Deal:
Buy 1 Large Bear Salve +1 Large Minigan + 2 Pocket size of ea. for $ 50.00 and get 1 Bear Oil Free!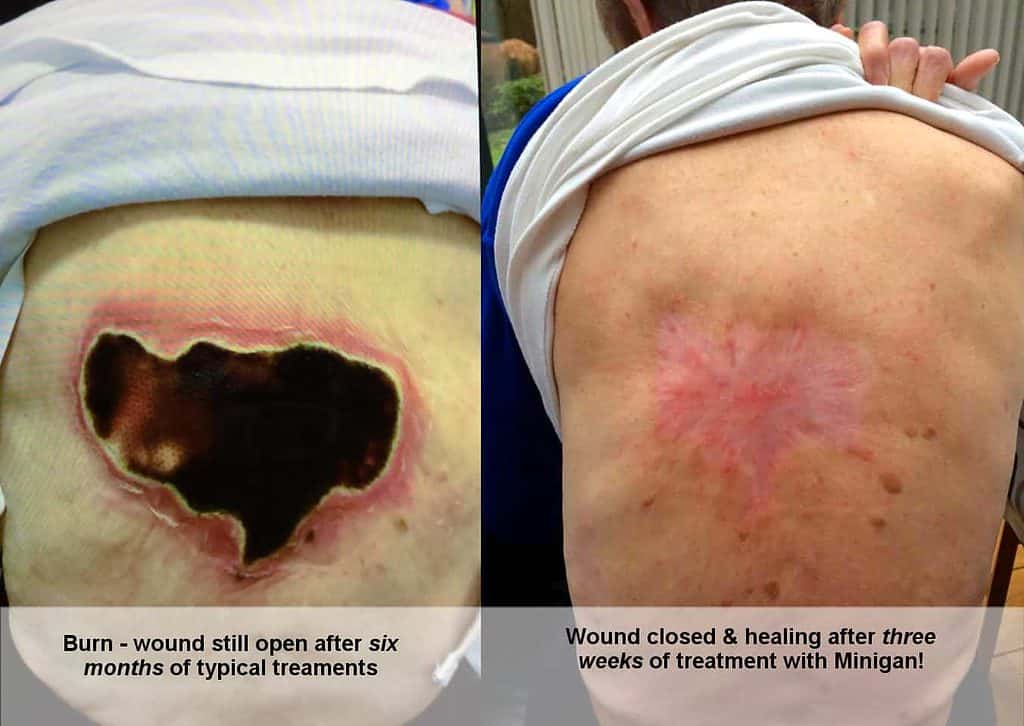 These are pictures of my mom's burned back! You can use them to promote your Minigan salve! It heals totally as you can see! Me and mom are so happy, the regular medicine didn't help, even the doctor didn't know what to do anymore! Then we met, I'm so grateful for meeting you!
After only 4 days using the Minigan salve on my sons face, his acne has cleared up tremendously. He feels less agitated and painful.
During a recent visit we were gifted a jar of Bear salve, prepared by Dan himself. I have been suffering with various ailments for the last few years, seen numerous specialists, and have been prescribed many things from A to Z; all with little to no success and many side effects. Instantly I felt relief from itching pain and my skin looked more relaxed. After a week my partner and I noticed huge improvements. Using it now and going to get some more for sure! If nothing has worked for your skin or you just want a healthier glow, give it a try, it may work for you too!
Thank you Dan for this wonderful natural remedy. Our dog has had some major issues with a fungal infection in her feet, nothing that we had tried was helping. After only one day of using the bear salve there was a noticeable difference, and she is on the mend.
Megan & Drew (Nova Scotia)
I LOVE bear salve! One of the only things that's ever helped my 3 year old's eczema. It's great for everything!
For all the women…TRY THIS ON YOUR CUTICLES ASAP!!! I do stock opening boxes about 3-5 times a week and my hands get soooo dry they feel like sand paper. THIS is a heavenly sent fix-it-all balm!!! Go and get some!! I swear you'll love it, works on getting rid of pimples too (Thank you Dan for that tip)
Daniel….your Minigan and Bear Salve are amazing!!! Every time I buy some I run into someone who could use it. And I always get amazing feedback. I literally just walked some bear salve over to a neighbour who's son's head is healing from hair loss due to medication. He cannot start hair regrowth treatment until the itchy wounds on his head heal. Thank you for your wonderful medicine!
Always sells superb items. One thing I enjoy about buying from Dan is he is a genuine soul who sells genuine products. Both my parents have bought shoes and boots from Dan and the products have been outstanding. Also have purchased both the Minigan salve and Bear Salve and both are incredible. If you want real authentic products from someone who has an authentic soul, this shop is for you!
It works like a dream.. I'm so thankful for Dan introducing me to it.. had a bad burn and a few cuts from work and within a few minutes the burn/aching was gone and within a few days the cuts were completely gone!